We set the NEW standard of COBOTs
Build in controller - force sensor in all joint, and much more.
​

More
​
Forrige
Næste
NACHI "Robot"
Nachi is a renowned Japanese company known for their incredible industrial robotics, machining tools, systems and machine components. These robots are available for a great range of weights, applications and tasks. Fun fact, Nachi is the prime robot supplier for Toyota.
Learn about Nachi Robots
ROKAE "Cobot"
The new flexible collaborative robots in the xMate CR series are based on hybrid force-position control and xCore, a new in-house developed high-performance control system for industrial robots. Designed for industrial applications, the robots offer improved motion performance, force control, safety, ease of use and reliability.


SensoPart 2D Vision Sensor

Does your production need precision work over and over again? Then it's time to learn about Sensopart Vision. Heat, sound or optical sensors, and many more. We have the entire product range from SENSOPART in stock.


Mech-Mind "3D Vision"
Mech-Mind has developed a complete product portfolio, including Mech-Eye industrial 3D cameras, Mech-Vision machine vision software, Mech-DLK deep learning software, Mech-Viz robot programming software compatible to almost every production need. Want to test your solution up against ours?
Whitepaper : Kollaborative Robotter 101
---
Mange virksomheder oplever udfordringer og barrierer første gang de skal automatisere med kollaborative robotter. Vores whitepaper klæder dig på til at tackle de barrierer, så du glidningsfrit kommer fra start med cobots.
Klik her, og download vores Whitepaper. Helt gratis!
---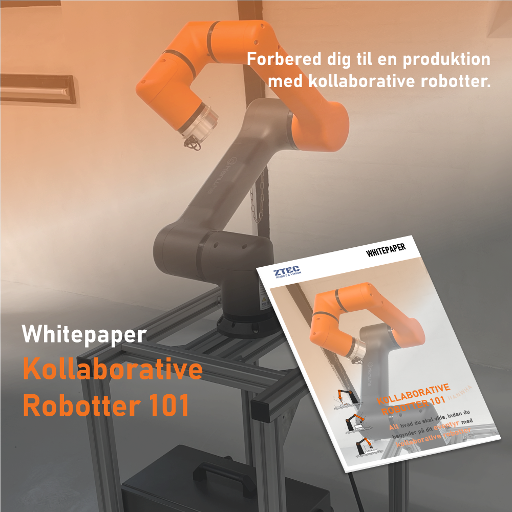 ​

Unique Products - Unique Solutions
​ZTEC is a supplier of Nachi robots in the Nordics (Denmark, Norway, Sweden). We deliver solutions and products for your production, where automation is needed to bring you more strongly into the industry of the future. We also stand strong with collaborative robots from Rokae for collaboration in your production.
In addition to our products, we also offer technical knowledge, service and support throughout the entire process. We are with you from start to finish, and are not afraid to go the extra step to ensure that your automation solution fits perfectly with the tasks you need automated.

Want to learn more about who we are and how we can help you? Let's get to know each other!
Has your company considered collaborative robots?
ZTEC er forhandler af ROKAE, der producerer kvalitetsrige cobots pt. op til 20kg payload.
Cobots may be just the right choice for your business. Read more below about how a collaborative robot can strengthen your production and support your employees in their work.