Who is Nachi?
With the development of its first industrial robots in the 1960s, NACHI proved its high innovative capabilities in automation. Since then, NACHI has continuously expanded its range of industrial robots.
Today, NACHI supplies customized automation solutions with robots for all areas of application. Whether it concerns pick & place tasks, machine tools, spraying robots, spot and seam welding in the automotive and steel construction industry, picking, packing and palletizing all kinds of components, or positioning and assembly of small components in electronics manufacturing.
Automation and production with NACHI robots.

---
Nachi supplies a wide variety of industrial robots, including series of 6-axis and SCARE-type robots, for the automation of machine tools and production lines with electrical equipment and in the electronics industry. In order to achieve the greatest productivity, the goal at NACHI is to increase the operational speed of the robots. NACHI's industrial robots are world-renowned for having the fastest robots in the compact class with payloads up to 25kg.
In applications with machine tools, NACHI's robots prove to be able to avoid external disturbances with their compact and slim design. In addition, the robots are protected against liquids, dust, chips, and the robot's body is resistant to oil and cooling lubricants.
Manufacturers of electronic devices get a head start on their assembly lines and pick & place applications with the minimal footprint and the vertical concept of NACHI's new SCARA-type robots.
Through its innovative design, the axes are slim right from the first axis to the robots' grippers. From this, the robots find it very easy to reach, move and mount small components at closely spaced position points. Through the robot's special kinematics, the axes can reach around significantly larger work areas.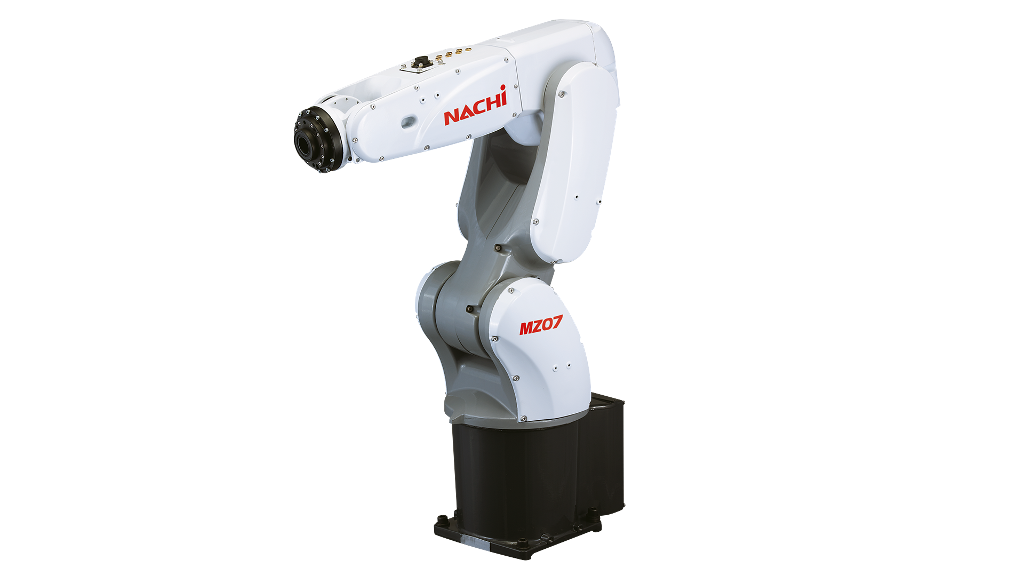 Applications
​Nachi robots can be applied in any industry, from pharmacy and food to the automotive and electronics industries. More and more companies in Denmark benefit from our MZ series. With the multitude of applications that are possible with the MZ04D, we know that we can support Danish production with high-tech and intuitive automation.
– Let's continue forward into Industry 4.0.
Nachi for Automatica - The future is here now!
The MZ series is more than just an industrial robot. With an MZ04D you reach new heights with your productivity. Above, Nachi illustrates a variety of applications that our MZ Series can handle. Let's take a look!
Applications with Nachi
Nachi can be part of all your automation solutions. Material handling, CNC, screwing, palletizing, grinding, polishing, pick & place and many, many more. There is plenty of inspiration to draw from. Make a cup of coffee, sit back and enjoy the video.


Tablet Assembly
The MZ series robots are perfect for assembly, which is a frequent and well-known application in Danish production. With vision sensor cameras, it is also possible for the Nachi robots to independently find and move workpiece parts.
​
Screwdricing
Create your own small applications with the MZ04D.
Traditional industrial robots
Traditional industrial robots require different safety solutions than collaborative robots. Requirements for safety fences or light grids make it more difficult to use in teaching, where students must be careful in teaching. Industrial robots' purposes are often more specific, where collaborative robots are more flexible in their day-to-day use.
✔ Good operational reliability
---
✔ Solutions with great precision and speed
---
✔ Can be mounted in all directions: ceiling, floor and wall.
---
✔ The MZ series is light and compact for space saving
---
✔ Internal cable routing for enhanced durability
---
✔ Incredible short cycle times
---
Text programminng
Through simple graphic innovation, Nachi's user interface FD on Desk / Teach Pendant is traditional and easy to use.
High Speeds
Speed is key when it comes to the MZ series. In fact, the MZ series can boast of being Best-in-speed when it comes to 6-axis industrial robots.
A sea of applications
In partnership with Onrobot, it's almost plug & play with Onrobot's grippers for our Nachi MZ series. Let the inspiration begin!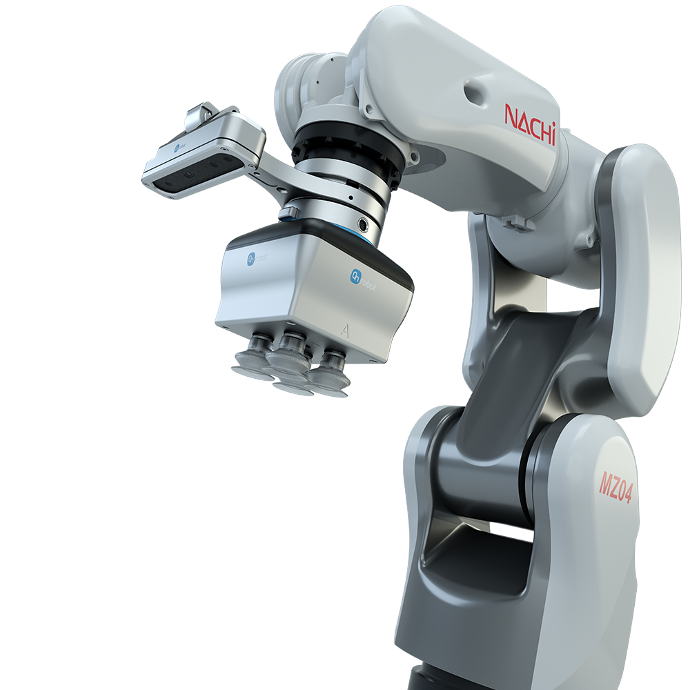 An intuitive start with the Nachi MZ Series
---
Automation should be simple, user-friendly and intuitive. Programming with robots should be fun, and application development should be straightforward and demonstrably simple.

This is what we have achieved with the Nachi MZ range. The MZ series is intended for a multitude of applications for both learning and production. The MZ series automates one-sided, repetitive work (EGA) so your employees can focus on value-creating tasks. Let's set the pace of the tasks to an increase.
---